What is Collegeboxes?
Collegeboxes is a division at U-Haul designed to improve the way students move to and from school. Rather than deal with the hassle of loading up a car, renting a truck or trailer, finding a storage unit, or even checking bags to move by plane, families can have Collegeboxes handle everything. Collegeboxes will pick up directly from the student and have their items stored while they are away or shipped anywhere worldwide.
How It Works
Sign Up

Go to collegeboxes.com and sign up. It's FREE to create an account. Select your school and the services you want to get started.

Pack Up

Pack your dorm room items and label your boxes. You can use supplies provided by Collegeboxes or your own - whichever works best for you!

We Handle the Rest!

We pick up, store, or ship your items. It's that easy to move to and from school when you work with Collegeboxes.
Collegeboxes for College Moving
Awesome service! All I had to do was pack the boxes and tell them when and where to pickup/deliver! Best storage and delivery company!

Josie | Student
University of Miami

Once again, I give thanks to all you folks at Collegeboxes! From the telephone reps to the delivery folks, your responsiveness, accuracy, understanding, and warmth made our (my college daughter and my own) experience a positive one. Thank you!

Rachel | Parent
Fordham University

Best service! Used Collegeboxes to move stuff from NJ to California two years in a row and at the end of last year for summer storage. The customer service is great when you call with questions. I will be using all 4 years and highly recommend.

Josh | Student
San Diego State University
What We Offer
Storage

Don't worry about renting a storage room. Customers pay by item, which includes pickup and delivery. Items are stored locally at a safe & secure climate-controlled storage facility.

Signature Supply Kit

Order the Collegeboxes Supply Kit from your customer account and have it shipped to the student. The Supply Kit contains 5 double wall boxes (24" x 16" x 18"), 10 label pouches, 5 zip ties, a roll of tape, and a marker.

Shipping

Print shipping labels and schedule pickup from your Collegeboxes account to enjoy discounted domestic and international shipping.

Online Account Management

Manage the process of storing and shipping all in one place. Print labels, order supplies, view status updates and schedule pickup and delivery.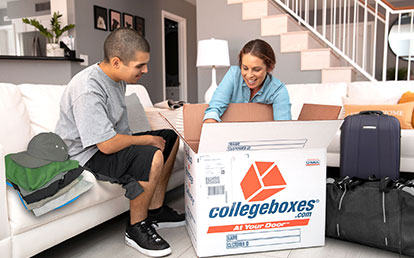 Why Choose Collegeboxes?
24/7 Customer Support
Trusted by parents & students since 1999
Don't need a vehicle to move
No hidden fees. Pickup & delivery included
Manage everything from your account
Items stored locally - always nearby
Shipment tracking, date and time stamping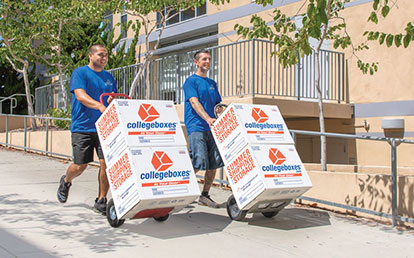 How Schools Benefit from Collegeboxes
Reduced campus congestion on moving days
Fewer shipments to and from campus mailroom
Provide students with affordable moving options
Collegeboxes manages the entire process and corresponds with students and parents
Frequently Asked Questions
What experience does Collegeboxes have?

We have been providing storage and shipping solutions to thousands of students across the nation since 1999.

Where are my items stored?

At our U-Haul storage locations and professionally managed storage warehouse that are within driving distance from each campus we serve.

What items can I store?

We can store just about anything that a student has in their dorm room. Boxes, furniture, sports equipment, appliances, etc.

What does this cost?

The cost for storage is per item per semester/summer. All storage prices include door-to-door pickup and delivery and storage thoughout each semester. View our complete storage price list.

Can I ship internationally?

Yes, we ship via FedEx international Economy Air. Receive a price estimate by completing a shipping inquiry form

Can I use your services if I live off campus?

Yes, if you live within two miles of campus, we can help you out. Contact us to have your address added.

Are my items protected against damage or loss?

Yes. We provide $100 worth of valuation per shipping or stored item. We strongly recommend the purchase of additional valuation in cases where the replacement value of your possessions exceeds $100 per package. Additional valuation can be purchased by indicating the desired amount of declared value when you enter the item on your inventory form online.

What forms of payment do you accept?

We accept all major credit and debit cards. No cash or checks.