Resources:
Light Commercial Truck and Cargo Van Rentals
U-Haul offers light commercial trucks, cargo vans, pickups, and trailers are ready to assist in your short term and long term business rental needs. Many of our corporate account holders get overloaded during the holiday season. To meet their demand, accounts use our light commercial fleet for daily, weekly and monthly rentals.
Or call 1-866-989-4541
Already have a corporate account? Login to your account
Benefits for Corporate Account Clients:
Dedicated Account Management
Centralized Reservations
Online Account Access
Daily, Weekly, and Monthly Rentals

Pickups & Cargo Vans

10' Truck

15' Truck

17' Truck

20' Truck

24' Truck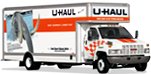 26' Truck
---
The Right Equipment
U-Haul has the finest and largest fleet to meet your business rental needs.
Most Space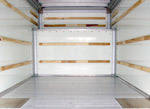 Our 26' rental truck is 13% larger than our nearest competitor. Our exclusive Mom's Attic® provides extra storage space above the cab to separate fragile items from the rest of your goods.
Easy to Load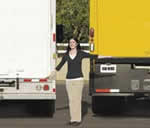 Our trucks have EZ-Load Ramps to make loading and unloading easier. The low decks on U-Haul moving trucks allows you to virtually pull up to the door for pickups and deliveries.
Protection for Your Goods
Our specially engineered Gentle-Ride Suspension ensures a smooth ride for delicate items. Unlike our competitors, the insides of our trucks have rub rails on all sides to protect your goods.
Towing Capability
All U-Haul trucks have towing capability in case you need extra space or want to tow a vehicle behind you.

---
Safety Features
U-Haul trucks have more safety features than any other rental trucks in the industry.
High Visibility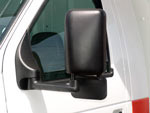 Our cabs and mirrors were designed so that every customer, tall or short, can see well while driving.
Well Maintained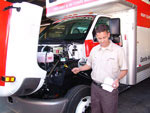 Our equipment inspection and verification program ensures clean, well maintained equipment for every customer every time.
Air Bags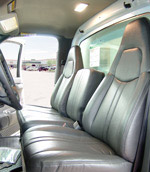 All of our rental trucks come equipped with a driver-side air bag and our newest trucks have a passenger-side air bag.
Seatbelts
Our larger rental trucks have three-across belted seating to ensure everyone in the cab is safe.
Damage Coverage
We also offer damage coverage options to relieve you of financial responsibility for any damages to the equipment.
24-hour Emergency Road Service
Having more than 15,000 locations comes in handy if the unexpected happens. With our 24-hour emergency road service, we can get you back on the road quickly.
---
Lowest Cost
Fuel Economy
U-Haul rental trucks have a low profile, rounded corners and advanced chassis skirts to reduce wind drag and raise fuel economy 20%.
All U-Haul rental trucks use cheaper, cleaner and more convenient unleaded fuel.
Use the fuel-economy gauge to save money on fuel and reduce air pollution.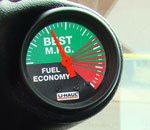 More locations, more convenience.
Because U-Haul has over 15,000 locations across the U.S. and Canada, you'll be able to pick up equipment close to your origin and drop it off close to your destination. Every where your business needs are—U-Haul is there.
Sustainable
We are committed to conducting business in a socially responsible manner to protect the environment and benefit the communities where we live and serve.
Back
To Top