Military Moving Made Easier
U-Haul provides service members and Department of Defense (DoD) civilians with the largest selection of convenient and affordable moving and storage solutions. Whether your relocation is in-town, interstate, or international, get everything you need for your PPM/DITY move all in one place.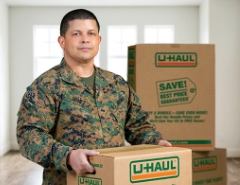 The
U-Haul

Advantage™ for Your PPM/DITY Move
More Service Options

We offer more products and services designed for DIY moving than anyone else. Whatever your needs are, U-Haul has a solution for you.

International Moving

Our U-Box® containers can be shipped overseas for international deployment or relocation. Ship your belongings to almost any port worldwide.

Low Upfront Costs

We have the Right Equipment for the Lowest Cost. You pay less out of pocket, then receive nearly 100% back after your PPM reimbursement is submitted.

Trusted Industry Leader

With more than 21,000 locations across the U.S. and Canada and over 75 years of experience, we have the know-how and infrastructure to help you complete your PPM.
How a
U-Haul

Military Move Works
Pre-Check List

You have PCS orders in hand for valid travel and your transportation office knows you are doing a PPM.
You understand your standard allowance (transportation allowance, per diem, and miscellaneous expenses).

Check List

Reserve your truck, trailer, or

U-Box

container from

U-Haul

. You may want to hire Moving Help to pack your boxes and move your furniture for you.
Keep rental receipts of expenses $75 or more to turn into your transportation office.

Lost your receipt? Contact your rental location for assistance.

Keep your weight ticket(s) to turn into your transportation office. If you are moving with

U-Box

®, inform us you need weight tickets at the origin location (before you PCS).

Post-Check List

Return

U-Haul

equipment to your nearest

U-Haul

location or schedule your

U-Box

drop off.
Return receipts to your local transportation office.
File claims (if applicable) with your local transportation office.
Hire Moving Help to move your boxes and furniture into your new home.
Rent a

U-Haul

storage unit near you.
U-Haul

Military Moving Services
U-Box

® Containers

Convenient, flexible, and secure portable moving and storage containers.

U-Box

® International

Shipping to almost any port worldwide.

Truck Rental

The largest selection of new equipment starting at $19.95.

Trailer Rentals

Low-cost options for any size move starting at $14.95

Moving Help®

Local, professional laborers who do the heavy lifting for you.

Self-Storage

The most coverage in North America. Get your first month free*.

Moving & Packing Supplies

Same-Day delivery on packing supplies in most U.S. metro areas.

Moving & Packing Supplies

Collegeboxes®

Ready-To-Go Box®

Reusable plastic moving containers available for rent.
*Free month of storage available at U-Haul and participating affiliate locations with one-way truck or trailer rentals.
U-Haul

Military Moving Frequently Asked Questions
What international shipping services do you offer?

Our U-Box containers ships to almost any destination in the world. We offer delivery to the destination port or directly to your door at your international destination (subject to availability).


How does the international shipment work?

Experience the convenience and benefits of our domestic U-Box services before your U-Box container is shipped internationally, simply make sure to keep a detailed inventory of all items packed. After your U-Box container is loaded and back at the origin U-Haul location, we will ensure all documentation is in order before we ship. If you elect to door delivery services at destination, we will assist you with customs documentation, clearance, and delivery to your door in your destination country.

Does U-Haul assist with clearing customs?

If you elect international shipping services to port, you will be responsible for sourcing your own customs agent in the destination country. If you elect international shipping services to door, our preferred partner will help you complete all customs documentation before your U-Box container is shipped and assist you in completing the clearance process at destination.


What documentation do I need to ship internationally?

Each destination has unique proof of residency / visa or citizenship and supporting documentation requirements to ship household goods into the country and qualify for tax-free import of household goods. If you elect international to door shipping services, our preferred customs clearance agent in the destination country will assist you with the proper documentation.

Do I have to be present in the destination country to ship by U-Box container there?

Yes, you need to be present at destination or have an existing travel itinerary to the destination country to initiate the shipment. Need to pack your items before? Store your packed U-Box container at our U-Haul location until you are ready to ship.

Can I store my U-Box container(s) in the destination country?

We have a large network of partners across the world that can accommodate storage in most destination countries. Please inquire with an international shipping team member for custom rates and options to be included in your shipping quote.