Explore
U-Haul

Towing Equipment
Towing equipment, versatile beyond
traditional move
the
Moves

Projects

Adventures

Vehicle Recovery
U-Haul towing equipment is ideal for all your moving needs and more. In addition to traditional moves, our towing equipment can help you with a variety of projects and help you tow your UTVs, ATVs and more to your next adventure.
Our towing equipment is not limited to just hauling cars, if you need to move something bigger than our regular utility trailers, our Auto Transport may be just the trailer you need to haul that odd load, like a hot tub, tractor or shed. Simply select "Customer Specified Cargo" under "What is being towed?" in the online reservation process
Compare your cargo to the dimensions and capacity of the auto-transport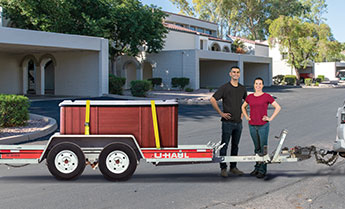 Rent
U-Haul

towing devices for your local and cross-country moves
One-Way Towing Equipment Rental
One-Way Towing Equipment Rental
When making a one-way move, you have many options which include our Tow Dolly, Auto Transport and Ramp Trailer. Using a U-Haul car carrier or tow dolly to transport your vehicle on a long distance move will save you money. Towing instead of driving will protect your vehicle from wear and tear, reduce fuel costs and eliminate the necessity of a second driver. Our extensive towing equipment line up also gives you an affordable option when you need to move a motorcycle, UTV or golf cart. Behind a U-Haul moving van or behind your own capable tow vehicle, we have the right towing equipment for you.
In-Town Towing Equipment Rental
In-Town Towing Equipment Rental
Moving a project, car or picking up a disabled vehicle? A U-Haul In-Town towing rental will save you money versus a tow truck. Going on a long roundtrip or taking your bike to and from a rally?  U-Haul also has the perfect trailers to haul motorcycles, UTVs and golf carts. Remember that only U-Haul rents towing equipment In-Town, behind our truck or your own personal tow vehicle. Be it a D-I-Y vehicle recovery or a round trip towing adventure, U-Haul has the right towing equipment to get the job done!
Towing Supplies
Enter your vehicle information and we'll help you find the right trailer hitch.

Buy standard and specialty hitch balls and mounts.

Everything you need to hook up your vehicle to your trailer.