Full-Service Corporate Storage Solutions
As the leader in moving and storage, U-Haul makes commercial storage easier by providing full-service storage management solutions designed specifically for large businesses and corporations. Before you lease extra office or warehouse space to accomodate your growing business, see what our innovative corporate storage solutions can do for you.
How Corporate Storage Works
As a large corporation, we understand the importance of secure and convenient commercial storage. We also understand the need for an easy way to manage assets across different regions.That's why our corporate storage solutions go beyond providing commercial storage units. With a custom-built corporate storage account, you can manage your entire storage operation on a regional or national level with ease.
Our corporate storage service includes a full-service online account management system, as well as a dedicated account representative, to help you manage your storage needs. Consolidate and schedule billing, manage user access, accept packages, itemize stored assets, and adjust your storage reservation across different regions, all from a single online dashboard. Best of all, your dedicated account representative is available to help you every step of the way.
Need storage on a smaller scale?
Learn more about our commercial and
small business storage solutions.
U-Haul

Corporate Storage Solutions
Warehouse Storage
Need somewhere to stora extra inventory or shipments? Our large storage units (10' and 20' and up) can serve as makeshift warehouse space, but at a lower cost. Many of our storage facilities also feature loading docks so it's easy to drop off and pick up your loads.
Vehicle Storage
Need a secure location for your fleet vehicles during your slow or off season? U-Haul vehicle storage is the perfect solution. Choose from uncovered, covered, or fully enclosed vehicle storage options to specifically meet the needs of your company's fleet.
Climate Controlled Storage
No matter what you need to store, keep it in pristine condition with climate-controlled storage. Each unit is kept at a comfortable room temperature with minimal humidity so your inventory, materials, office supplies, and more, stay safe.
Outdoor / Drive Up Storage
With outdoor / drive up spaces, it's even more convenient to stop by your storage unit(s) and manage your assets. There's no need to navigate stairs, hallways, and elevators. Drive right up to your storage unit and load or unload your cargo with ease.
Document Storage
Storing important tax documents and other records is another key aspect of managing a business. When you run out of space, our document storage options provide secure, climate-controlled, and convenient storage for your most crucial documents and records.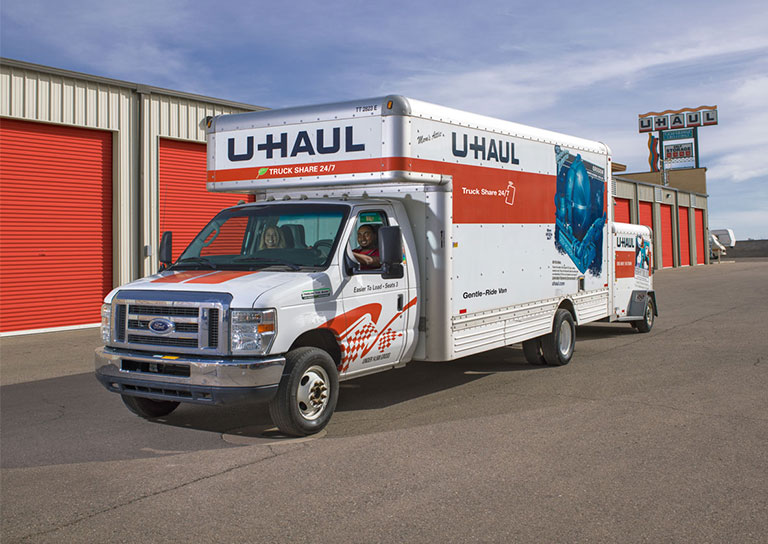 U-Haul

Corporate Storage Advantages
Reduced Business Costs

In many cases, renting storage units is more affordable than leasing additional office or warehouse space. This is because storage units don't require a long term commitment and don't come with overhead costs. You only pay for the storage you need, and not a day longer.

Flexible Business Options

Maybe you need temporary inventory storage during peak season, or you aren't sure how long you'll need storage. That's not a problem with U-Haul corporate storage. Our flexible, month-to-month storage contracts allow you to change your reservation based on the needs of your company.

Dedicated Account Support

Our dedicated support representatives are here to help you manage your commercial storage needs every step of the way. Whether that means tracking employee usage and costs, maintainting essential account information, making reservations, consolidating billing, or something unique to your business.

Industry-Leading Amenities

Your business is your livelihood. The last thing you want is to store important company assets without peace of mind. U-Haul goes above and beyond with industry-leading security features like electronic gates, individually alarmed rooms, and video monitoring to keep your stored assets safe.

Convenient Storage Locations

With more than 2,000 U-Haul storage locations across the U.S. and Canada, there's a good chance there is a commercial storage facility nearby. This is especially helpful if your business is on a regional or national scale - store some items on the west coast, some on the east coast, and some in between.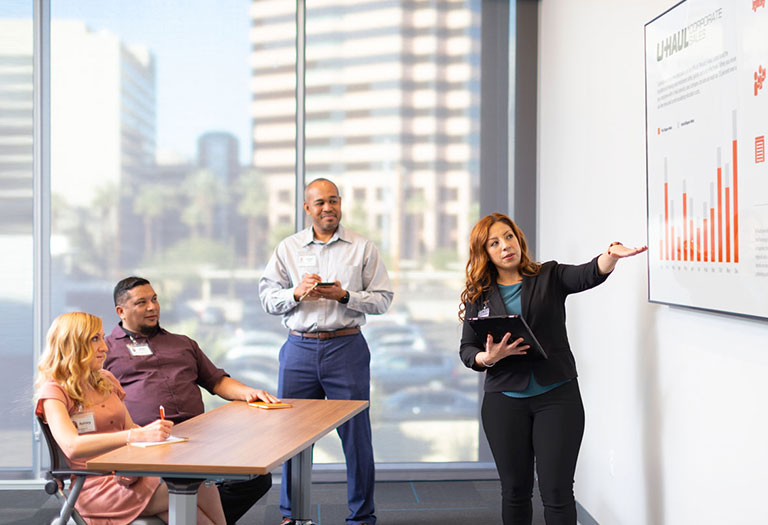 Become a corporate storage customer
Many of our corporate clients are involved in the pharmaceutical, electronic, publishing, and retail industries. However, we work with businesses in a variety of industries, big and small. If you're not sure whether U-Haul corporate storage is right for your business or industry, contact us and we'll be happy to answer your questions.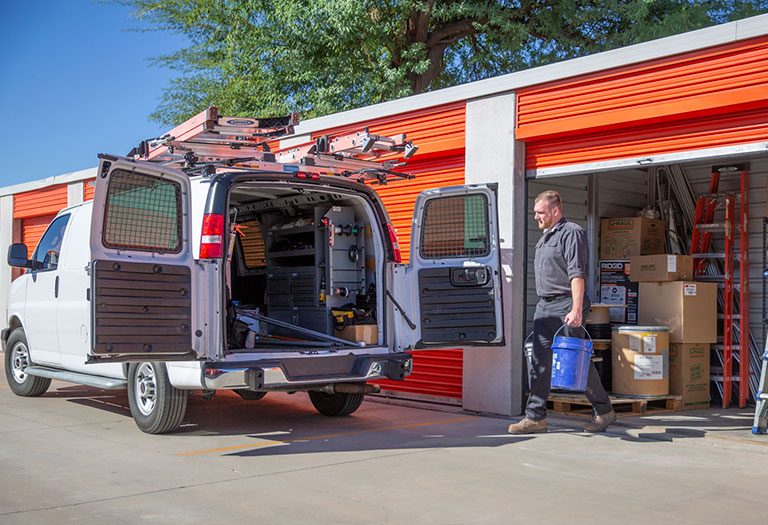 Small Business Storage Solutions
Did you know we offer the same advantages, amenities, and custom solutions for local and small businesses as well? If you're a contractor, restaurant owner, or run any type of small ot medium-sized business, we have a commercail storage solution for you.
Learn More About Our Small Business Storage Program
Trust The Moving Experts
Let's get started! Sign up for a U-Haul Corporate account and get
in contact with the U-Haul Corporate Sales team today!
Call Us
We are here 7 days a week.
Call 1-800-528-6042
Support Dashboard
Sign-in to your corporate account today and access all your account features including dates and pricing.
Help & FAQs
We've got your most frequently asked questions covered. Get answers fast!