Ship Items to School

Ship your items and avoid the hassle of checking bags and paying costly
airline fees. Collegeboxes receives items, stores them temporarily, and delivers them to student rooms upon their arrival.

Full-Service College Move

Students pack their belongings and Collegeboxes handles the rest. Service
includes pickup from the dorm room, summer storage, shipping home, and delivery of stored items when the student returns to campus.
Do-It-Yourself Move

Move your dorm room essentials in a U-Haul Truck or Trailer
Rental. Great for local college moves and for families travelling
to school together looking for an affordable moving solution.

Self-Storage

Keep your dorm room essentials in a nearby

U-Haul

self-storage
facility over the summer or for a semester away. Access your
belongings at any time.

Local College Movers

Use Moving Help® to connect with local movers to help you
pack, unpack, load, and unload your belongings. No job is too
big or too small for Moving Help Service Providers!

College Moving Supplies

Order boxes and packing supplies on uhaul.com and choose
from FREE same-day pickup at a local store or have supplies
shipped directly to campus.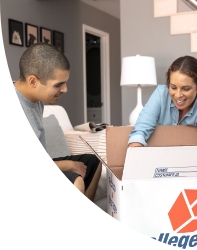 Your College Moving Adventure Begins Here!
Sign-up now to receive your exclusive college moving offer.