Most Coverage in North America

No Cost to Reserve

Dry, Clean and Secure Facilities
Keeping Your Belongings Dry and Secure
Climate controlled storage units are a feature mainly available at our indoor storage facilities. While some outdoor or drive-up storage locations may offer climate controlled units, they are most commonly found in our one or multi-story storage buildings. Because these units are located inside a building, they are kept at a comfortable temperate range between 65 and 85 degrees, just like your home.
*One month free self-storage with one-way equipment rentals at U-Haul® and participating Affiliate locations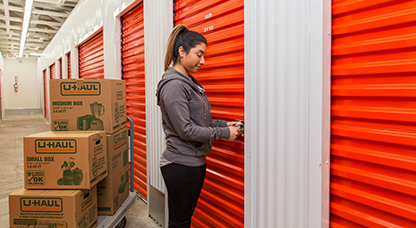 Why Get a Climate Controlled Unit?
You should consider getting a climate controlled storage unit if you have items you'd like to protect from the weather and humidity. Non-climate rooms are perfect for items that you would store in your basement, garage or shed. However, items that are more delicate and sensitive to humidity and weather should be stored in a unit that has climate control. These rooms provide a consistent temperature year round, protecting your belongings from extreme temperatures and harmful humidity.
Impact On…
What Items Need Climate Control?
Climate Control Checklist