Notice of Emergency Recall
June 3, 2013
Attention U-Haul Customers:
U-Haul has received Notice, from the Manufacturer, that a propane tank manufactured by Lite Cylinder similar to the tank in this photo is subject to an immediate safety recall. U-Haul sold approximately 500 tanks subject to this recall between 2009-2012. Please follow the information in this Notice.
Please cease using your lite cylinder tank immediately.
We are providing notice that the PHMSA division of the Department of Transportation has issued an emergency recall of all Lite Cylinder propane tanks, effective immediately. PHMSA has indicated that these propane tanks have higher than normal rates of failure and/or propane leaks.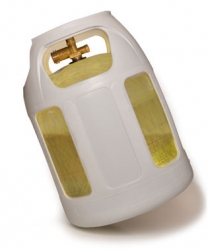 A copy of the notice of this recall from Lite Cylinder Company is available at the nearby link or www.uhaul.com/Propane/LiteCylinderNotice/.
Please cease using your lite cylinder tank immediately and return it to the closest propane-certified U-Haul location. Your closest U-Haul location can be found at www.uhaul.com/Locations/.
We regret any inconvenience this may cause you. If you have any questions or concerns, please contact Lite Cylinder at:
The Lite Cylinder Company
139 Southeast Parkway
Franklin, TN 37604
(615) 595-7988
In addition, you are welcome to contact us at litecylinderrecall@uhaul.com.
If you no longer own this propane tank, please provide a copy of this Notice to the individual to whom you believe currently has possession of this tank.