Dollies and Furniture Pads
Move like a pro!
Save time and prevent damage to your belongings by renting our dollies, hand trucks and furniture pads.
All U-Haul dollies, hand trucks and furniture pads are available to rent at any of our U-Haul locations. If you are reserving equipment online, simply add them to any U-Haul moving equipment online reservation.
Prevent Damage to your Belongings

Save Time & Move More Efficiently

Let Our Dollies Do the Heavy Lifting for You
Utility Dolly (Hand truck)
Ideal for moving apartments, the best choice for moving boxes, appliances, furniture and more.
Lightweight and easy to use.
Cuts loading time by 50%
One hand maneuverability

Large, soft non-mar tires
Easy to use on ramps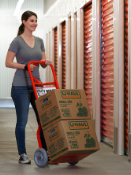 Furniture Dolly
This four-wheel dolly is perfect for moving dressers, wall units, pianos, chest freezers and more.
Easily move items in tight places.
Tight turning radius
Padded edges

1,000-pound capacity
Large, soft non-mar tires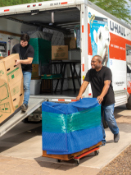 Appliance Dolly
The ideal choice when moving refrigerators, washers, stoves and other heavy appliances.
Provides the leverage you need.
Doubles your moving power.
Nylon strap to secure items

Heavy-duty, 700 lb. capacity
Easily rolls up and down stairs

Rub rails to protect your things
Furniture Pads
Offering the ultimate protection for your belongings! When moving your furniture and applicances there's nothing better than U-Haul's furniture pads.
Protection that pays for itself.
68" x 85" to cover items easily

Soft recycled cotton material

Help prevent nicks and scratches
Per 1/2 dozen of furniture pads