1945
An Idea to Meet a Need
Since 1945, U-Haul has been serving do-it-yourself movers and their households. Like many other successful ventures, the concept for U-Haul was generated out of need. After World War II, widespread need existed for do-it-yourself moving equipment that would be available on a one-way, nationwide basis. U-Haul co-founders L.S. "Sam" Shoen and his wife, Anna Mary Carty Shoen, recognized that need and acted upon it. Their visionary approach spread the cost of ownership among many users, facilitating the mobility of the populations of the U.S. and Canada.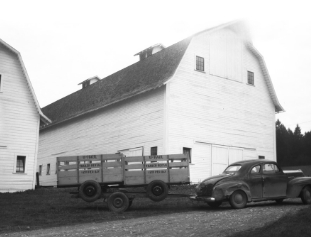 The covered wagon of the pioneers morphed into orange

U-Haul

trailers.
In the process, an industry was born.
Discharged from the Navy in the summer of 1945, 29-year-old Sam and Anna Mary tried to rent a utility trailer to move their possessions from Los Angeles to Portland, Ore. It couldn't be done. They had to take only what they could fit in the car.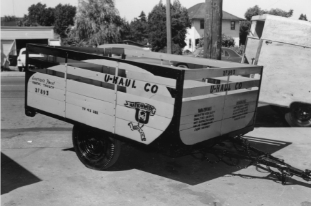 "Small luggage-type passenger automobile trailers were being rented from 'rental lots' in Los Angeles. Each lot had from 20 to 40 trailers which were rented locally for approximately $2 per day," recalled Shoen in his book "You and Me".
"I recognized that here was an item with considerable utility value which had not been exploited at all in the Northwest or in the San Francisco-Oakland area. I was intrigued with the business potential of this idea, especially from the standpoint of one-way rentals."
The Shoens reasoned that many other families had a need similar to theirs: the short-term availability of a trailer that could be rented "here" and left "there." No one, at that time, seemed ready or willing to serve that need.
1945
U-Haul

is born

With a 1937 Ford and $5,000 in savings, Sam, Anna Mary and their young son moved from Los Angeles to Portland, Ore. During the drive, they came up with the name and formulated the outline of what was to become the U-Haul Trailer Rental System.

The Shoens launched U-Haul in the summer of 1945. The first trailers were bought from welding shops or second hand from private owners. Within two weeks of leaving Los Angeles, the first U-Haul trailer was parked on a service station lot and being offered for rent. By the end of 1945, 30 4' x 7' open trailers were on service station lots in Portland, Seattle and Vancouver, Wash.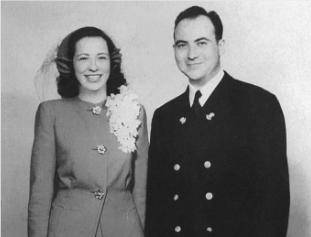 An identity was born. First, the trailers were painted bright orange. Next, the name U-Haul Co. was established and U-Haul trailers were imaged on the sides and back with the sales message – "U-Haul Co. Rental Trailers $2.00 Per Day." This offered a constant product advertisement, whether the equipment was on the road or on display. Lastly, trailer rentals were merchandised from service station outlets. A commission structure for dealers was established, and much of the early recruitment was done by a customer who was offered a discount on their trailer rental for establishing a U-Haul rental agent (now called U-Haul dealers) at their destination.
Growth of a Giant
The company was not an overnight success. The purchased trailers—generally a frame and tongue built on the running gear of scrapped automobiles, what Sam would later call "junkers"—broke down with painful frequency, often costing more to repair than could be covered by rental fees. That winter, to cut expenses "to the bone," Sam and Anna Mary moved in with her folks on the family ranch. They were broke, but believed they had a business. Based on his appearance of success, Sam obtained credit from a local lumber yard and was able to obtain war-surplus steel from a Navy yard.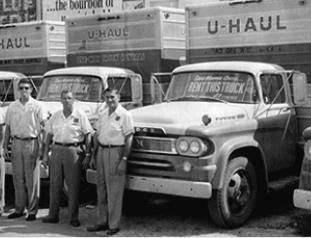 By the end of 1949, it was possible to rent a trailer one way from city to city throughout most of the U.S. and, by 1955, throughout most of Canada. The rest is history.
1952
In 1952, a unique financing plan – the Fleet Owner Program – was created to provide capital for growth during the 1950s. Under this plan, individuals or groups of individuals could purchase a fleet of 30 or more U-Haul Co. trailers. The trailer owner would then contract with ARCOA, Inc. for the operation of their trailer fleet in the U-Haul Trailer Rental System and shared the income from the rental of the trailers. By the end of 1959, the U-Haul trailer fleet consisted of 42,600 trailers.
1955
What made 1959 a milestone year for the Company was not the expansion of its trailer fleet, but rather the introduction of its box truck fleet. U-Haul trucks were designed specifically to accomodate residential moving for the do-it-yourself family. These box trucks incorporated features to help ease the physical demands of moving and enhance the protection of belongings being transported. They quickly became a hit with the public, largely thanks to affordable rental rates, their ease of driving, and the recently enacted bill for the U.S. interstate highway system, which made general automotive travel and cross-country moves quicker and more accessible.
1959
Sometimes moving companies need to move as well. After making a happy home in the Pacific Northwest for 22 years, U-Haul relocated its corporate headquarters from Prtland to Phoenix, AZ, in 1967. L.S. Shoen selected a pair of 11-story office towers along Central Avenue north of downtown Phoenix – today anchors of the ever-expanding U-Haul Midtown Campus – as site of the new corporate complex.
1967
Three years later, in 1970, the U-Haul Technical Center plant opened in Tempe, AZ, where trailers, truck boxes and other moving products would be assembled, tested, researched and repaired. The Tech Center remains one of the longest-running plants operating in Tempe.
1974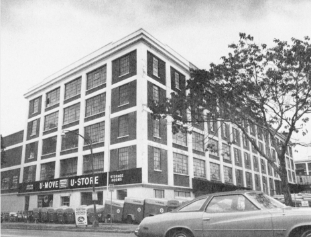 U-Haul broadened its primary services in 1974 as the public began looking for available space to stow possessions that they lacked room for at home. Self-storage emerged as a new product offering, beginning with modest chain-link containers inside existing U-Haul buildings. Residents without large garages, attics or closet space – commonalties for apartment, condominium and other urban dwellers – found this to be a practical solution.
U-Haul recognized that more people sought to save items of monetary or sentimental value, and needed a secure and affordable solution to do so. In time, U-Haul self-storage spaces evolved into enclosed units with climate-controlled options, video surveillance, 24-hour accessibility and other modern conveniences found in state-of-the-art facilities.
The commitment to meeting a growing demand resulted in

U-Haul

becoming a leading self-storage provider in North America.
1984
The 1980s brought about an array of landmark achievements and changes within the company. In 1984, U-Haul expanded services to all 50 states with the inclusion of locations in Hawaii, three years after one-way transactions to Alaska and the Canadian Northwest were made available. Now virtually every customer living in the U.S. or Canada could make their next residential move utilizing U-Haul equipment.
In 1986, the Company's future was safeguarded with the election of Joe Shoen as Chairman of AMERCO, parent company of U-Haul. The second generation of Shoens to operate the company, Joe Shoen's directive was to return focus to the core moving services and customers that made U-Haul the No. 1 name in moving. This followed a stretch of years when the Company had become overly diversified, and getting back to basics was a major step towards reaffirming customer trust and brand profitability
The next big rollout was the 26-foot "Super-Mover", or JH, in 1988. The largest truck in the fleet, the JH was able to comfortably transport the belongings of a typical 3 to 4-bedroom home in one trip. That same year, U-Haul launched its widely popular SuperGraphics campaign, bringing captivating images, educational facts and community-specific stories to the sides of U-Haul trucks and trailers everywhere.
1995
With the onset of the Internet age, online moving reservations became available with the launch of uhaul.com in 1995. Now U-Haul equipment was at the fingertips of any customer with computer access. The moving public was further empowered in 2008 when U-Haul attained MovingHelp.com and validated an online marketplace where customers could find, review and hire local labor to assist with a wide variety of moving tasks.
Customer options expanded again in 2011 when U-Box® portable moving and storage containers were added to the product line. With one-ton capacity and door-to-door shipment to almost anywhere in the world, U-Haul was combining the advantages of secure short- or long-term storage with the need for shipping and delivery services in a single package.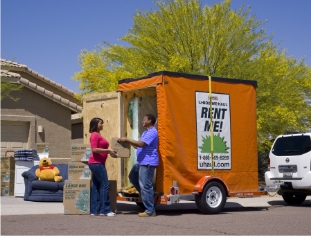 2017
In 2017, U-Haul Truck Share® 24/7 made the full inventory of U-Haul box trucks, cargo vans and pickup trucks available to the moving public at any hour of any day. This simplified process eliminated the limitations of store hours and the need to enter a busy showroom. The service is available to any customer with an internet-connected mobile device with GPS and camera capability. A team of online live verification specialists is ready to assist on a 24/7 basis.
In March 2017,

U-Haul

announced it eclipsed 20,000 neighborhood dealers.
This network of dedicated dealerships accounts for more than 90% of all U-Haul truck- and trailer-sharing locations, meeting their community's moving needs by making some of their time and lot space available to serve do-it-yourself customers. U-Haul dealers are not franchisees; they are small business owners seeking to grow their income through U-Haul commisions with no capital investment. They remain the backbone of the same Company structure that was established in 1945.
2020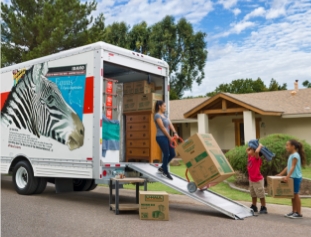 U-Haul celebrates 75 years in business in 2020. Thanks to our customers' patrionage, the U-Haul fleet has grown to approximately 176,000 trucks, 127,000 trailers and 41,000 towing devices. Self-storage facilities includes more than 66.7 million square feet of storage space at owned and managed facilities throughout North America. U-Haul is the largest installer of permanent trailer hitches in the automotive aftermarket industry, and is the largest retailer of propane in the U.S.
We look forward to serving you for the next 75 years and beyond!
Moving Statistics
Recommended Book
U-Haul

Blog: History & Culture