U-Box Portable Storage and Moving Containers in Buchanan, NY at AGI Supply Inc

(U-Haul Neighborhood Dealer)
Contact Us
Buchanan, NY 10511
(Off traffic circle in town by Post Office)
Office Hours
Mon–Fri

8 am–5 pm

Sat–Sun

Closed
Services at this Location:
U-Box Portable Storage and Moving Containers in Buchanan, NY 10511
U-Box containers provide a convenient, flexible and secure way to move and store your belongings. Whether you're moving across town or across the country, portable storage containers are the perfect solution. We can deliver them to your door so you can take your time loading your belongings. If you need us to store your containers while you're staging you home or waiting to close on your new place, rest assured your things are safe in one of our many neighborhood U-Haul locations. When you're ready we can deliver them to your new home or store as long as you need. Not moving? You can keep the container on your property for as long as you need, whether doing a remodel or clearing out your garage or basement.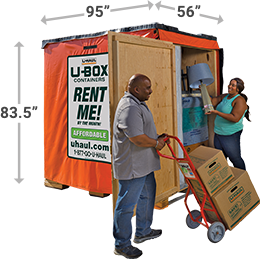 A U-Box container fits about a room and a half of household items. If you got it into your house, you can get it into a U-Box.
Internal Dimensions:

95" X 56" X 83.5" (LxWxH)

Capacity:

257 cubic ft

Weight:

Up to 2,00 lbs.
Moving Tip: If you aren't sure you can fit all your belongings in your U-Box container, order and extra! Unlike our competitors, we only charge you for what you use.
How does it work?
The best part about using U-Box® containers for a move or as a portable storage solution is you have the flexibility and control to plan the perfect move. You can ship to your new home or store until you know where you're going. We give you the opportunity to plan each.
Choose the number of containers you need. One

U-Box

container fits about a room and a half of household items. When in doubt get an extra–we won't charge you if you don't use it.
Tell us when you will need to access the container. If you ship it to a new city but don't need it yet, we can store it for you at our secure warehouse.
We deliver the containers to you and pick them up when you're ready. If you would rather take it home yourself, use our specially built trailer or pack it at a

U-Haul

location.
We will store your container at our secure warehouse or we can ship anywhere in the world. You will hear from us when the container is in transit and when it arrives at its destination.
Other
U-Haul

Services
Customer Reviews
Average Customer Rating
Let us know what you think.
Your valuable feedback will help us serve you better.
Write a review
Rating:

5.0
When my boxes arrived one of them was missing all of the locks except mine

kim J. 
Rating:

5.0
The drop off and pick up had no problem the only problem i had was the wait time on the phone. Also When ordering the u box on line it a little confusing as far as understanding the process of hiring the 3rd party to help pack and unpack need to explain this process on line a little bit better. I followed the recommendation uhaul had for a 3 bedroom house but I should have added an extra one. You do not realize how much stuff you have till you start to pack so when moving start at least 6 month ahead to downsize this will help you later on.
Rating:

3.0
I spoke with Aaron on the phone for several hours on where to ship the UBOX's and when they should be delivered to for unloading. He had some problems with the delivery address but after an hour of troubleshooting we solved the issue. I had a date set for the UBOX delivery to my old address, a pickup date, a delivery to the U-HAUL warehouse near my new address, and a delivery date to my current new address to unpack. When I arrived at my new address I called to find out what time the UBOX's were arriving the following day. I was then told that there was NO home delivery set under my account and that I would have to rent a U-HAUL truck, hire a moving company through U-HAUL, unpack everything in both boxes into the truck, drive THREE MINUTES down the road to my current address and unpack it AGAIN. I was HIGHLY annoyed because I was told that Aaron did not write ANYTHING down in the notes of my profile for a delivery. It was almost as if we had never talked and that he didn't do any part of his job to make things set right. I then had to go in-person to the U-HAUL location where my boxes were (3 minutes away) and explain the entire situation to the worker there. Finally I was able to get my UBOX's that day only to pay an extra $200! That's insane! So I had to pay an extra $200 because Aaron didn't write ANYTHING down that we had spoken about. Highly annoying and dysfunctional.

Adam F. 
Rating:

4.0
There was damage to my furniture. I filed a claim with UHaul and was denied. I was very disappointed with the damage to my furniture and not getting any reimbursement to attempt to repair the furniture,

JOSEPH V. 
Rating:

5.0
There's not much more you can do to improve the customer experience here. The staff was extremely helpful and courteous, and even pointed out a local store where I could purchase a lock for my container. Excellent customer service, thank you!

Angel A. 
Rating:

3.0
The location is n/a since they delivered. The destination delivery was missed. U-Haul had us down for us to unload. The box was delivered to a town nearly 3 hours away. It was supposed to be delivered to the actual site. It was two days late and a fee adjustment was never made. Not a good experience.

Kevin F. 
Rating:

5.0
Horrible experience from beginning to end! And no one cared. Not customer service or the regional office in Middletown, NY. We reserved 3 U boxes and 3 trailers so we could store the boxes on our property. The day of delivery they only had 2 u boxes and 1 trailer! I was on hold with customer service for 1.5 hours to find out that The 3rd box needed to be picked up elsewhere which was completely out of the way. We had movers who were charging by the hour and had No time to clean up uhaul's mistake. If that was inconvenient enough, Now the u boxes needed to be stored in Buchanan, which is exactly what I didn't want. I wanted them on my property for easy access. 3 weeks later we schedule the delivery of the boxes to our house. Customer service adviced that the driver would call to confirm time of delivery the day prior...well I never got the call so I called to make sure my boxes would be delivered. I Spoke to 3 different people who said yes, it would be delivered between 2-3p. 4pm rolls around and no boxes. I called the regional office and after an hour of back and forth they tell me to call the driver to see What her ETA Well when I call the driver- Michelle. When I call Michelle she states she does not have us on her schedule and was off for the day! Her excuse was "no one told me and I don't have a backup driver today" Thanks to uhaul for a nightmare of a move! Next time I will just get a POD container.

massiel P. 
Rating:

3.0
Originally, I was told that I could have my U-Box delivered to my house. Then, I was told that I could not have my U-Box delivered to my house. I asked if I could pick up the U-Box and transport it to my house. I was told yes. Then, when I called to confirm that I was picking it up the next day, I was told that, no, I couldn't do that. The day the U-Box arrived, I received an e-mail saying I would be contacted to arrange when I could "access" my belongings. That was a Thursday. As of Monday morning, I had received exactly NO contact. I called to arrange for my own pickup, which involved three separate trips, in two cars, 20 minutes each way, to Buchanan, which is not what I was promised would happen. I am grateful that my belongings are now safely in my home, but it was only due to my own dogged pursuit of them and not for any effort put forth by AGI Supply in Buchanan. I would not use this location ever again if I could at all avoid it.

Katie C. 
Rating:

5.0
Andy was great! He showed up early and was great with scheduling.

Caroline B. 
No reviews have been submitted for this location.