U-Box Portable Storage and Moving Containers in Jefferson, OH at A PlusTowing

(U-Haul Neighborhood Dealer)
Contact Us
Jefferson, OH 44047
(Intersection of Netcher Rd and Rt 193 1 Mile South of Rt167)
Hours
Mon–Fri

8 am–4 pm

Saturday

7 am–4 pm

Sunday

9 am–1 pm
Free towing inspection
24 hour customer return
Services at this Location:
U-Box Portable Storage and Moving Containers in Jefferson, OH 44047
U-Box containers provide a convenient, flexible and secure way to move and store your belongings. Whether you're moving across town or across the country, portable storage containers are the perfect solution. We can deliver them to your door so you can take your time loading your belongings. If you need us to store your containers while you're staging you home or waiting to close on your new place, rest assured your things are safe in one of our many neighborhood U-Haul locations. When you're ready we can deliver them to your new home or store as long as you need. Not moving? You can keep the container on your property for as long as you need, whether doing a remodel or clearing out your garage or basement.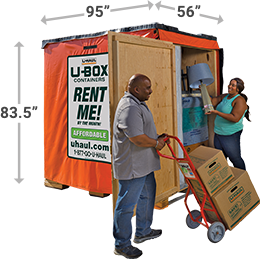 A U-Box container fits about a room and a half of household items. If you got it into your house, you can get it into a U-Box.
Internal Dimensions:

95" X 56" X 83.5" (LxWxH)

Capacity:

257 cubic ft

Weight:

Up to 2,00 lbs.
Moving Tip: If you aren't sure you can fit all your belongings in your U-Box container, order and extra! Unlike our competitors, we only charge you for what you use.
How does it work?
The best part about using U-Box® containers for a move or as a portable storage solution is you have the flexibility and control to plan the perfect move. You can ship to your new home or store until you know where you're going. We give you the opportunity to plan each.
Choose the number of containers you need. One

U-Box

container fits about a room and a half of household items. When in doubt get an extra–we won't charge you if you don't use it.
Tell us when you will need to access the container. If you ship it to a new city but don't need it yet, we can store it for you at our secure warehouse.
We deliver the containers to you and pick them up when you're ready. If you would rather take it home yourself, use our specially built trailer or pack it at a

U-Haul

location.
We will store your container at our secure warehouse or we can ship anywhere in the world. You will hear from us when the container is in transit and when it arrives at its destination.
Other
U-Haul

Services
Customer Reviews
Average Customer Rating
Let us know what you think.
Your valuable feedback will help us serve you better.
Write a review
Rating:

5.0
Nothing that I can think of. The guys at this location were great - thanks!

CHARLES J. 
Rating:

5.0
The U Box container workout quite well for us moving from Geneva Ohio to Roswell New Mexico

Roy S. 
Rating:

5.0
Ohio was excellent and they worked with our schedule excellently. reno needs to work on stuff

Lynne G. 
Rating:

5.0
The moving process with u-haul was straight forward. There were some minor bugs, but were basically my misunderstandings of the process and u-haul quickly resolved any issues. I would definitely use u-haul again and recommend.

Marc K. 
Rating:

5.0
I don't know if it could've gone any smoother. Our ubox arrived 4 days early and was dropped off at the apartment literally 30 seconds after we pulled in. Nothing was damaged and we wouldn't hesitate to use the ubox again.

Don L. 
Rating:

5.0
Initial contract was hard but once they understood what we needed things straightened out. Great job

Patricia G. 
No reviews have been submitted for this location.