U-Box Portable Storage and Moving Containers in Murray, KY at Max's Towing & Storage

(U-Haul Neighborhood Dealer)
Contact Us

Murray, KY 42071
Hours
Mon–Fri

8 am–4 pm

Saturday

8 am–12 pm

Sunday

Closed
Special Operating Hours
6/10/2023:

Closed


6/24/2023:

Closed


7/1/2023 - 7/4/2023:

Closed


8/19/2023:

Closed

8/26/2023:

Closed


9/2/2023 - 9/4/2023:

Closed

Services at this Location:
U-Box Portable Storage and Moving Containers in Murray, KY 42071
U-Box containers provide a convenient, flexible and secure way to move and store your belongings. Whether you're moving across town or across the country, portable storage containers are the perfect solution. We can deliver them to your door so you can take your time loading your belongings. If you need us to store your containers while you're staging you home or waiting to close on your new place, rest assured your things are safe in one of our many neighborhood U-Haul locations. When you're ready we can deliver them to your new home or store as long as you need. Not moving? You can keep the container on your property for as long as you need, whether doing a remodel or clearing out your garage or basement.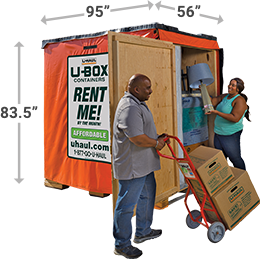 A U-Box container fits about a room and a half of household items. If you got it into your house, you can get it into a U-Box.
Internal Dimensions:

95" X 56" X 83.5" (LxWxH)

Capacity:

257 cubic ft

Weight:

Up to 2,00 lbs.
Moving Tip: If you aren't sure you can fit all your belongings in your U-Box container, order and extra! Unlike our competitors, we only charge you for what you use.
How does it work?
The best part about using U-Box® containers for a move or as a portable storage solution is you have the flexibility and control to plan the perfect move. You can ship to your new home or store until you know where you're going. We give you the opportunity to plan each.
Choose the number of containers you need. One

U-Box

container fits about a room and a half of household items. When in doubt get an extra–we won't charge you if you don't use it.
Tell us when you will need to access the container. If you ship it to a new city but don't need it yet, we can store it for you at our secure warehouse.
We deliver the containers to you and pick them up when you're ready. If you would rather take it home yourself, use our specially built trailer or pack it at a

U-Haul

location.
We will store your container at our secure warehouse or we can ship anywhere in the world. You will hear from us when the container is in transit and when it arrives at its destination.
Other
U-Haul

Services
U-Haul is North America's #1 hitch installer!

Propane service delivered straight to your door!

We have the largest selection in the industry!
Customer Reviews
Average Customer Rating
Let us know what you think.
Your valuable feedback will help us serve you better.
Write a review
Rating:

5.0
very accommodating for last minute need to get access. super kind people

Alena A. 
Rating:

5.0
Great service. Very accommodating

PHYLLIS P. 
Rating:

5.0
Staff was very accommodating and informative. I would definitely recommend them

PHYLLIS P. 
Rating:

2.0
I had previously rented 8 UBoxes and had a good experience. This experience was less than satisfactory. I did not know there were two different sizes of UBox and was sent a "U" version which was considerably smaller than the 8 I had previously rented. This caused me to have to throw out $200 worth of property since it would not fit in the box..The crew I contracted to load the box told me oh yeah there is a small box and a larger box which I never knew and was not told. Not only was I given a smaller UBox but I was charged the same price for it as the larger box and I lost some property. I expressed my concern to the Uhaul manager and was basically told it sucked to be me. This was a total ripoff and will not be using Uboxes in the future

TIM E. 
Rating:

5.0
The change over from the wood ubox to aluminum / fiberglass is a definite +

TIM E. 
Rating:

4.0
The final delivery from Murray to Paducah took some time coordinating the actual move but the customer service was very good

Yvonne E. 
Rating:

5.0
Nothing extra needed! Friendly, professional and easy to work with! The guys at Max's Towing were great!

THOMAS A. 
Rating:

2.0
My experience as a customer of uhual did not meet expectations. November 8th our uhual boxes were picked up to be delivered to Riverview, Fl from Martin, TN with a guaranteed delivery date of 16 Nov to the Tampa uhual location followed by delivery to our residence the next day. Our reservation email displayed these dates. The next email received from uhual was a new date of arriving on the 22nd of Nov to the Tampa location with a guaranteed delivery of 23 Nov. After I received an email with a new date of guaranteed delivery of 24 Nov. After calling numerous times to uhual customer service and scheduling the new date of delivery had changed to the 25th of Nov. The Tampa location driver also called to inform us of the 25th of Nov. The issue here is that we were told a guaranteed date with yet haven't recieved our ubox containers and have paid a good amount of money to receive our items on time. Yes there is the 50 dollar a day payout, however, this will not cover the amount spent in having to replace uniform items and household goods due to not receiving our delivery on time. Refund money has not been received. Further, uhual never contacted the driver of the shipping company until it was requested by us to have them contacted. No one knew where our uhual boxes were until the shipping company was finally contacted. Emails were being sent as well from uhual with incomplete information and incorrect information. Never will we use uhual again.

Grace G. 
No reviews have been submitted for this location.