U-Box Portable Storage and Moving Containers in Smiths Creek, MI at FC Simpson Lime Co

(U-Haul Neighborhood Dealer)
Contact Us

Smiths Creek, MI 48074
Hours
Mon–Fri

9 am–5 pm

Saturday

9 am–2:30 pm

Sunday

Closed
Free towing inspection
24 hour customer return
Services at this Location:
U-Box Portable Storage and Moving Containers in Smiths Creek, MI 48074
U-Box containers provide a convenient, flexible and secure way to move and store your belongings. Whether you're moving across town or across the country, portable storage containers are the perfect solution. We can deliver them to your door so you can take your time loading your belongings. If you need us to store your containers while you're staging you home or waiting to close on your new place, rest assured your things are safe in one of our many neighborhood U-Haul locations. When you're ready we can deliver them to your new home or store as long as you need. Not moving? You can keep the container on your property for as long as you need, whether doing a remodel or clearing out your garage or basement.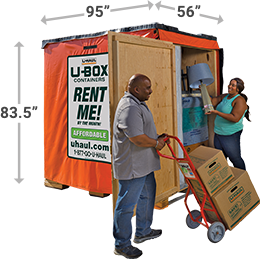 A U-Box container fits about a room and a half of household items. If you got it into your house, you can get it into a U-Box.
Internal Dimensions:

95" X 56" X 83.5" (LxWxH)

Capacity:

257 cubic ft

Weight:

Up to 2,00 lbs.
Moving Tip: If you aren't sure you can fit all your belongings in your U-Box container, order and extra! Unlike our competitors, we only charge you for what you use.
How does it work?
The best part about using U-Box® containers for a move or as a portable storage solution is you have the flexibility and control to plan the perfect move. You can ship to your new home or store until you know where you're going. We give you the opportunity to plan each.
Choose the number of containers you need. One

U-Box

container fits about a room and a half of household items. When in doubt get an extra–we won't charge you if you don't use it.
Tell us when you will need to access the container. If you ship it to a new city but don't need it yet, we can store it for you at our secure warehouse.
We deliver the containers to you and pick them up when you're ready. If you would rather take it home yourself, use our specially built trailer or pack it at a

U-Haul

location.
We will store your container at our secure warehouse or we can ship anywhere in the world. You will hear from us when the container is in transit and when it arrives at its destination.
Other
U-Haul

Services
Customer Reviews
Average Customer Rating
Let us know what you think.
Your valuable feedback will help us serve you better.
Write a review
Rating:

5.0
Excellent I would highly recommend uhaul pods to others

Julie B. 
Rating:

5.0
The service I received was great. I talked with several agents and they were all helpful and were aware that the container was 400 miles away from me as it contained my granddaughter's possessions when she moved out of her house to another state. I would use U Haul again and it was cheaper than other movers I had contacted for the same service. Thank you for everything.

Suzanne C. 
Rating:

3.0
The problem was with the delivery of the pod to the new address. Kept getting the excuse there was no driver; so hire drivers to improve customer satisfaction.

Patrice F. 
Rating:

5.0
The whole experience was the worst I have ever experienced. I am beyond upset with U-Haul and their lack of customer service. I would be embarrassed and ashamed if I worked or owned a part of this company. I will make sure that I do not suggest U-haul for people in the future. On one bright note Kurt and the staff at FC Simpson are amazing and great people to work with. The rest of your organization could learn a lot on how to treat customers and people in general from them.

Derek S. 
Rating:

5.0
The U box container was delivered before the time promised after several phone calls with the Florida dispatcher☹️. Later that evening when I opened the box I noticed some of the items on top were wet. The ubox leaks. The u box wrapping had several tears in it and was closed up with packing tape on the door way side. Packing tape strips does not make a water tight seal. If the u box was delivered when it was supposed to be delivered I would have inspected it and had you take it to the uhaul facility and dry out some of the wet bags. Not happy with Uhaul. John the manager at the Sarasota/ft Meyer facility was not helpful.

jonathan B. 
Rating:

5.0
The staff at FC Simpson Lime are so helpful and friendly. It was a pleasure doing business with them.

Chadwick S. 
No reviews have been submitted for this location.