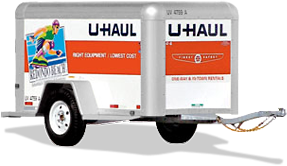 The 4x8 cargo trailer is lightweight and easy to tow behind any vehicle, it is our smallest enclosed cargo trailer rental. With a loading capacity of up to 1,600 lbs, our 4x8 cargo trailer rentals are perfect for short or long-distance moves as they provide security in transit and protect your belongings from wind and rain.
Lightweight and easy to tow
Enclosed trailer covered top
Aerodynamic cargo trailer design
If you are looking for an enclosed trailer rental, the 4x8 cargo trailer will suit your needs perfectly. Our small cargo trailers are easy to load with a low rear deck, plenty of tie-downs and a wide rear door opening. With cargo capacity totaling 142 cubic feet, household items such as loveseats, kitchen furniture and children's beds fit seamlessly into our 4x8 cargo trailers.
Enclosed trailer rentals are popular for both personal moves and businesses in many ways. These small enclosed trailers are great for college students moving to the dorm, self-delivery of new furniture or fitness equipment and perfect for hauling luggage and gear on a cross-country vacation. Businesses frequently rent cargo trailers to transport supplies to trade shows, pick up new desks and computer purchases, as well as delivering products to customers.
Save time by reserving and scheduling your trailer rental online today. We put safety first, so all trailer customers are advised to load the trailer heavier in front, drive slower than you normally would, and please, always wear your seatbelt.
Dimensions
Inside dimensions: 8'1" x 4'1" x 4' (LxWxH)
Door opening: 3'1" x 3'5" (WxH)

Features
Lowest deck
Softest ride
Padded rub rails
Easy towing
Capacity
Volume: up to 142 cu. ft.
Max load: 1,650 lbs.
Gross vehicle weight: 2,500 lbs. max.
Empty weight: 850 lbs.
Towing vehicle requirements
Must be equipped with a hard top if it is an SUV or Jeep. U-Haul does not allow any type of sport-utility vehicle not equipped with a hard top to tow U-Haul equipment.
Tow vehicle and trailer lighting must be operational at all times, day and night. All U-Haul trailers and towing are wired with a 4-way flat light connector.
The curb weight of your tow vehicle must exceed the weight of the loaded trailer.
In order to tow, your vehicle must be equipped with an adequate hitch system and lighting connections. Your hitch system includes the receiver hitch, ball mount and ball. The overall rating is determined by the lowest rated component of the three. How to determine your hitch system rating.
Must have 1-7/8" or, 2" hitch ball (2,000 lbs. minimum)
Must not exceed maximum allowable hitch ball height 25"
Must have external mirrors on both sides
The allowed cargo in this trailer will be calculated based on the curb weight of your vehicle and the lowest rated component of your hitch system.
Maximum recommended speed is 55 MPH
Load trailers heavier in front.
Reduce normal driving speed.
Wear a seatbelt.
All rental truck and trailer measurements are approximate. The equipment you receive may vary in size, based on the engineering/design specifications of multiple-production models.