Guymon Econo Storage
605 SE 5th St, Guymon, OK 73942

View Photos
Features Available at this Facility:
Services at this Location:
Office Hours
Mon-Fri: 8 am–3 pm
Sat: 8 am–12 pm
Sun: Closed
Storage Access Hours

View Photos
Customer Reviews
Rating:

5.0
Pure professional at work

David C.  |

 Overall Experience 
Available Units
(All Sizes are Approximate)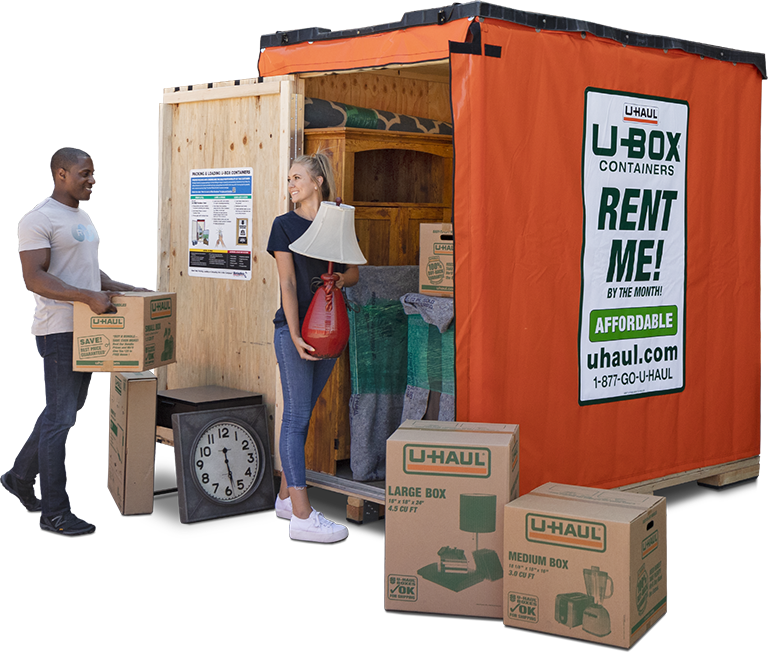 U-Box

® Containers for Moving and Storage

We deliver U-Box containers, you pack them up and we store them in our secure warehouse. Load at your own pace! Just give us a call when you want us to pick up or drop off your U-Box containers.
Storage Customer Reviews
Average Customer Rating
Let us know what you think.
Your valuable feedback will help us serve you better.
Write a review
Rating:

5.0
Pure professional at work

David C.  |

 Overall Experience 
Rating:

5.0
I had a storage unit, at times up to three units at a time, for the last 20 years. Yes, I was there since 2002. I've seen owners come and go. I would often prepay for up to 6 months at a time. As I have fallen on hard times financially, I had to do my best to empty out my last one as quickly as I could, living 4 hours away. The lady at the desk told me to not worry about what I couldn't take out to the dumpsters, since the dumpsters are always full (she has even said it that she's never seen it be picked up), and it was very windy that day. Trash had been blowing all over to begin with. She also told me that I would not get charged for a cleanout. I asked her a couple of more times too, to make sure. Either way, I wanted to get as much cleaned up and bagged up as I could, to take with me. Since I was put in the computer as moved out, and it was after hours, my code to get out of the facility didn't work, and I was locked in at the storage facility for quite a while. A friend ended up calling the police to get help, but thank God, someone after a while, was going to visit their unit, and I was able to get out then. I wouldn't have had a way to get back in to finish up, didn't know who to call so I could get back in to finish up, and with no place to go that late in the day, I just had to take my loss and go ahead and drive the 4 hours back home. I had already paid for March, but had hoped that if I left early in the month like that, that I could get the last bit of my money back. Per my receipt from them, I was supposed to get $70 back. After calling a few times to try and get what was said on my receipt ($70 to me is a lot of money), with the lady clearly saying that I wouldn't get charged for the cleanout, the owner finally called me almost two weeks later, to tell me how much they charge for a cleanout, that they had pictures of the way that I left it, how long and how hard the cleanup guy supposedly worked to clean it out, and how first it was that they had to go to a different dumpster, and then to the landfill. My friend retired from the city's sanitation department there (he drove one of their garbage trucks), and has said too, that if a business's dumpsters are always full, they get more dumpsters. It wasn't my fault that theirs are always full, that they don't have enough dumpsters, and that I was locked in for not sure how long. I was also told by the owner on how I would pay the old rates, but the lady that used to work there told me that they started the new rate as of January, that they were going to go up to the new rate of $78 per unit. I had been paying $300 for every 6 months. I've even paid a year in advance at least one time that I can remember. Either way, if I didn't pay enough, I am sure that someone would have told me, and locked me out of being able to be able to get in at all. Either way, I couldn't get out, after being locked in that move out day, and then to come back in, to finish everything. I wouldn't be surprised if they haven't already rented my storage unit out by now, to get paid by the new tenants, and with my this month's rent. This is not how you treat customers who have been there over a dozen years before you bought the place. Please to whoever is looking for a storage unit, there are plenty of cheaper options around town. I wouldn't wish the way that I got done by the owner on anyone.

LINDA C.  |

 Overall Experience 
Rating:

5.0
Super nice people. Very helpful. I wished we still lived there. We used their storage for 2 years. Never had any issues at all.

Brenda P.  |

 Overall Experience 
Rating:

5.0
Customer did not leave a comment.

DANIELLE C.  |

 Overall Experience 
Rating:

5.0
Great to work with! Great facility!

Thomas F.  |

 Overall Experience 
Rating:

5.0
Customer did not leave a comment.

Cassidy F.  |

 Overall Experience 
Rating:

5.0
Customer did not leave a comment.

George L.  |

 Overall Experience 
No reviews have been submitted for this location.