U-Box Portable Storage and Moving Containers in Corbin, KY at Corbin Storage

(U-Haul Neighborhood Dealer)
Contact Us
Corbin, KY 40701
(Behind Shoe INN on 25E)
Hours
Mon–Fri

8 am–5 pm

Saturday

8 am–12 pm

Sunday

Closed
Special Operating Hours
4/1/2023:

7:00 am - 10:00 am



Services at this Location:
U-Box Portable Storage and Moving Containers in Corbin, KY 40701
U-Box containers provide a convenient, flexible and secure way to move and store your belongings. Whether you're moving across town or across the country, portable storage containers are the perfect solution. We can deliver them to your door so you can take your time loading your belongings. If you need us to store your containers while you're staging you home or waiting to close on your new place, rest assured your things are safe in one of our many neighborhood U-Haul locations. When you're ready we can deliver them to your new home or store as long as you need. Not moving? You can keep the container on your property for as long as you need, whether doing a remodel or clearing out your garage or basement.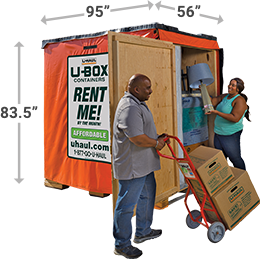 A U-Box container fits about a room and a half of household items. If you got it into your house, you can get it into a U-Box.
Internal Dimensions:

95" X 56" X 83.5" (LxWxH)

Capacity:

257 cubic ft

Weight:

Up to 2,00 lbs.
Moving Tip: If you aren't sure you can fit all your belongings in your U-Box container, order and extra! Unlike our competitors, we only charge you for what you use.
How does it work?
The best part about using U-Box® containers for a move or as a portable storage solution is you have the flexibility and control to plan the perfect move. You can ship to your new home or store until you know where you're going. We give you the opportunity to plan each.
Choose the number of containers you need. One

U-Box

container fits about a room and a half of household items. When in doubt get an extra–we won't charge you if you don't use it.
Tell us when you will need to access the container. If you ship it to a new city but don't need it yet, we can store it for you at our secure warehouse.
We deliver the containers to you and pick them up when you're ready. If you would rather take it home yourself, use our specially built trailer or pack it at a

U-Haul

location.
We will store your container at our secure warehouse or we can ship anywhere in the world. You will hear from us when the container is in transit and when it arrives at its destination.
Other
U-Haul

Services
Customer Reviews
Average Customer Rating
Let us know what you think.
Your valuable feedback will help us serve you better.
Write a review
Rating:

3.0
Signage is poor, driveway is rough. The staff was great.

JAMES H. 
Rating:

1.0
You lied to us, you told us in Florida you would store. Our pods and deliver them to our house when the time came. When we called you said you didn't deliver to our area and it would cost us $700 dollars to deliver them.. we called and kept being transferred to other people. We talked all the way up to Knoxville and they hung up on us. This is pitiful service and I expect half of my money back for all the lies. Please have someone call who doesn't lie. I want a refund for the lousy service. James Paddock. 606-875-4756

james P. 
Rating:

5.0
Everything was great. Will recommend you to everyone who needs this. Jeff at Corbin where I picked up my u box to take to my home was very helpful, friendly, and professional! Great job!!

Judy F. 
Rating:

5.0
Could not ask for a better representative jeff is the greatest. He defenatley needs a huge raise

TIMOTHY M. 
Rating:

5.0
Great customer service in Corbin! Quick in and out with my 4 U-boxes. My only complaint is that at the drop off place, they said my boxes were overweight, and the place in Corbin said they were not. My U-boxes were half full, and the stuff in there was mostly clothes and kitchen items, no furniture or mattresses or anything I couldn't lift by myself. Also, you HAVE to take the furniture pads, even though I didn't need them, and those things are heavy. So be aware of how much you think your items weigh, I wish now I would have questioned it because I probably could have gotten away with the original 3 boxes instead of paying for the 4th one.

BARBARA B. 
Rating:

5.0
Corbin Storage helped my family through the last three years. Our parents had medical issues and we kids had to take care of the house -- daunting task!. They were amazing -- always answered the phone, always answered our questions, always helpful. We could not be more pleased with the service they provided and the care they took with our belongings. We recommend Corbin Storage highly and thank them deeply for all their support.

MEGAN C. 
No reviews have been submitted for this location.