U-Box Portable Storage and Moving Containers in Meadow Vista, CA at Deluxe Cycle

(U-Haul Neighborhood Dealer)
Contact Us

Meadow Vista, CA 95722
Hours
Mon–Sat

10 am–5 pm

Sunday

Closed
Services at this Location:
U-Box Portable Storage and Moving Containers in Meadow Vista, CA 95722
U-Box containers provide a convenient, flexible and secure way to move and store your belongings. Whether you're moving across town or across the country, portable storage containers are the perfect solution. We can deliver them to your door so you can take your time loading your belongings. If you need us to store your containers while you're staging you home or waiting to close on your new place, rest assured your things are safe in one of our many neighborhood U-Haul locations. When you're ready we can deliver them to your new home or store as long as you need. Not moving? You can keep the container on your property for as long as you need, whether doing a remodel or clearing out your garage or basement.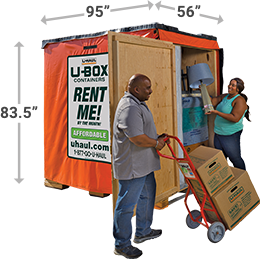 A U-Box container fits about a room and a half of household items. If you got it into your house, you can get it into a U-Box.
Internal Dimensions:

95" X 56" X 83.5" (LxWxH)

Capacity:

257 cubic ft

Weight:

Up to 2,00 lbs.
Moving Tip: If you aren't sure you can fit all your belongings in your U-Box container, order and extra! Unlike our competitors, we only charge you for what you use.
How does it work?
The best part about using U-Box® containers for a move or as a portable storage solution is you have the flexibility and control to plan the perfect move. You can ship to your new home or store until you know where you're going. We give you the opportunity to plan each.
Choose the number of containers you need. One

U-Box

container fits about a room and a half of household items. When in doubt get an extra–we won't charge you if you don't use it.
Tell us when you will need to access the container. If you ship it to a new city but don't need it yet, we can store it for you at our secure warehouse.
We deliver the containers to you and pick them up when you're ready. If you would rather take it home yourself, use our specially built trailer or pack it at a

U-Haul

location.
We will store your container at our secure warehouse or we can ship anywhere in the world. You will hear from us when the container is in transit and when it arrives at its destination.
Other
U-Haul

Services
U-Haul is North America's #1 hitch installer!

Propane service delivered straight to your door!

We have the largest selection in the industry!
Customer Reviews
Average Customer Rating
Let us know what you think.
Your valuable feedback will help us serve you better.
Write a review
Rating:

5.0
Everything about this was wonderful!! Really!! Thank you so much!

Claudia C. 
Rating:

5.0
The person who helped me at haul in meadow vista was extremely helpful and responsive!

Kelly J. 
Rating:

5.0
Mick and Don run a great operation at their Meadow Vista U-Haul site. Very friendly, informative and accommodating. And, always deferential to THIS CUSTOMER'S needs! I'd recommend Meadow Vista U-Haul to anyone contemplating a move or storage situation that fits within U-Haul's offerings of service. You might even make some new friends! :-)

larry C. 
Rating:

5.0
Mick at Deluxe Cycle and Linda and Rebecca at Uhaul were the Best and only good part of my experience of Uhaul in Ca. Then...the men who unloaded my boxes in AZ we're phenomenal I would highly recommend Collin and his crew....who are separate from Uhaul but fantastic,!

Denise K. 
Rating:

2.0
My box arrived late and went to the wrong location, I was initially told I could pick it up on the 15th, when I called on the 15th to the Hixson location no one answered the phone. I called somewhere else and was told the arrival date was the 15th but would not be available to pick up until the 16. When I was going to pick it up I called to confirm it was still there and they said it had been moved to the Hixson location. When I arrived at the Hixson location he would not let me hook up to the trailer the container because he said it was still showing at the Broad street location. He seemed to be having trouble accepting the container so I called and a girl on the phone did it. When I found him again on the lot and told him it was ready we went in to let him complete whatever he needed to do to finish. The girl on the phone had already told me it was ready to go. Then he said it needed to be back by the 19th of next month. I explained the guy I rented it from said it would need to be back 30 days after the day I rented it in California, he assured me I could keep it until the 19th. When I arrived home and checked the paperwork it did need to be back before the 29th.I hope this was a honest mistake but I cant it shake the feeling he was being deceptive in trying to have me return it late so U-Haul could collect the late fees. When I returned it a different guy checked me out, Despite him having a large bandage in his hand he was very efficient and had me ready to go by the time I had the trailer unhooked.

Michael F. 
Rating:

5.0
We had a few issues with delivery to our house in North Carolina, but the staff there was helpful and solved the issues each time.

Marcia Y. 
Rating:

3.0
Would like to have had a guesstimate of what timeframe we would get the delivery. All five Uboxes were offloaded in our development AT THE WRONG HOUSE WHERE THERE WAS NOBODY HOME. The drivers just left boxes on the street and left the area. Fortunately a worker in the area had heard we were expecting a delivery so we called and the driver returned to onload them and bring them to us. This process was unfortunate and avoidable. The company knew we were anxiously awaiting the delivery. Boxes left about four blocks from where they were to be dropped. We are lot 490. Boxes left at lot 460 WHERE THERE WAS NOBODY HOME. Just left in the street.

Karen C. 
Rating:

1.0
The guy who runs this store is beyond unprofessional. Was not on time for any of our meetings. Then when I was supposed to pick up the box it showed he was closed for 2 weeks so I tried to call and got a message to call Uhaul so that is what I did. He had not reserved the box right so they could not find it at first and then he sends me a text asking if I think he is stupid. I will never be using Uhaul while this guy continues to represent you

Jonathan S. 
Rating:

4.0
You were great. The only little problem was the crate only had 2 tie down latches. And the hasp on door was loose. Both easy repairs. All that being said this was a great way to move! Thankyou

John E. 
Rating:

5.0
Mick is awesome. Made it easy!

Dennis H. 
Rating:

5.0
all the staff was very helpful and very accommodating.

barbara N. 
Rating:

5.0
If I could rate this team higher then excellent I would. They were prompt, courteous, handled my belongings as if they were their own, cleaned my belongings as they unloaded them. I can't say enough about how excellent Mick and James were. They even followed to make sure everything was done correctly. This team was OUTSTANDING. Thank Mick and James.

adriane S. 
No reviews have been submitted for this location.