U-Box Portable Storage and Moving Containers in Stuarts Draft, VA at Sours Automotive

(U-Haul Neighborhood Dealer)
Contact Us

Stuarts Draft, VA 24477
Hours
Mon–Thur

9 am–5 pm

Fri–Sat

10 am–2 pm

Sunday

Closed
Services at this Location:
U-Box Portable Storage and Moving Containers in Stuarts Draft, VA 24477
U-Box containers provide a convenient, flexible and secure way to move and store your belongings. Whether you're moving across town or across the country, portable storage containers are the perfect solution. We can deliver them to your door so you can take your time loading your belongings. If you need us to store your containers while you're staging you home or waiting to close on your new place, rest assured your things are safe in one of our many neighborhood U-Haul locations. When you're ready we can deliver them to your new home or store as long as you need. Not moving? You can keep the container on your property for as long as you need, whether doing a remodel or clearing out your garage or basement.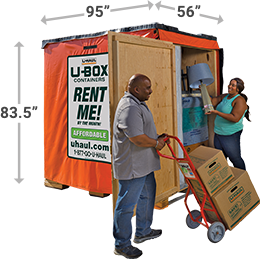 A U-Box container fits about a room and a half of household items. If you got it into your house, you can get it into a U-Box.
Internal Dimensions:

95" X 56" X 83.5" (LxWxH)

Capacity:

257 cubic ft

Weight:

Up to 2,00 lbs.
Moving Tip: If you aren't sure you can fit all your belongings in your U-Box container, order and extra! Unlike our competitors, we only charge you for what you use.
How does it work?
The best part about using U-Box® containers for a move or as a portable storage solution is you have the flexibility and control to plan the perfect move. You can ship to your new home or store until you know where you're going. We give you the opportunity to plan each.
Choose the number of containers you need. One

U-Box

container fits about a room and a half of household items. When in doubt get an extra–we won't charge you if you don't use it.
Tell us when you will need to access the container. If you ship it to a new city but don't need it yet, we can store it for you at our secure warehouse.
We deliver the containers to you and pick them up when you're ready. If you would rather take it home yourself, use our specially built trailer or pack it at a

U-Haul

location.
We will store your container at our secure warehouse or we can ship anywhere in the world. You will hear from us when the container is in transit and when it arrives at its destination.
Other
U-Haul

Services
U-Haul is North America's #1 hitch installer!

Propane service delivered straight to your door!

We have the largest selection in the industry!
Customer Reviews
Average Customer Rating
Let us know what you think.
Your valuable feedback will help us serve you better.
Write a review
Rating:

1.0
Poor communication, delayed delivery, transferred several times when calling customer service.

Cesar C. 
Rating:

5.0
Phone system and online chat not very effective. Frequently dropped from phone call after very extended holds, or dropped on 'transfer'. Phone customer help system is not acceptable. Personnel seem good when contacted. Would be good to have a "auto call-back" option, and statement of hold times.

Victor E. 
Rating:

5.0
I had mostly large boxes and totes and was going across the country, so the U-box was definitely a better option for me. Cost-wise it was maybe a bit higher than getting a truck and all the fuel and towing my car, but I didn't have to worry about finding parking for a truck and trailer for 4 or 5 nights and that was entirely worth it to me. My experience was very positive, it made the trip and the move a lot less stressful. Packing the box was easy and it shipped out quickly. My box arrived well ahead of schedule, which was great. Make sure to let the destination know at least 24 hours ahead of when you want to retrieve your things when they arrive, I had a bit of trouble with the paperwork at the end because of that but all my things arrived perfectly with very little shifting.

Wendy E. 
Rating:

5.0
Incredibly friendly staff that helped out with my questions about delivery and pick up.

Diane P. 
Rating:

1.0
Worse experience with any company I have ever had period. Do not use uhaul for interstate travel.

gregory D. 
Rating:

1.0
The folks at Sours Automotive acted like it was a burden to give us access to our UBox once it arrived late. Additionally, we just had to cancel a credit card due to fraudulent charges three months in a row from UHaul for "car rental" and "other travel" five months after we completed our business with UHaul. Completely unimpressed.

Christina W. 
No reviews have been submitted for this location.