U-Box Portable Storage and Moving Containers in Hyde Park, UT at Mountain Toppers Inc

(U-Haul Neighborhood Dealer)
Contact Us
Hyde Park, UT 84318
(@ Hyde Park)
Hours
Mon–Fri

9 am–6 pm

Saturday

9 am–1 pm

Sunday

Closed
Services at this Location:
U-Box Portable Storage and Moving Containers in Hyde Park, UT 84318
U-Box containers provide a convenient, flexible and secure way to move and store your belongings. Whether you're moving across town or across the country, portable storage containers are the perfect solution. We can deliver them to your door so you can take your time loading your belongings. If you need us to store your containers while you're staging you home or waiting to close on your new place, rest assured your things are safe in one of our many neighborhood U-Haul locations. When you're ready we can deliver them to your new home or store as long as you need. Not moving? You can keep the container on your property for as long as you need, whether doing a remodel or clearing out your garage or basement.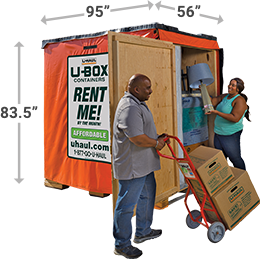 A U-Box container fits about a room and a half of household items. If you got it into your house, you can get it into a U-Box.
Internal Dimensions:

95" X 56" X 83.5" (LxWxH)

Capacity:

257 cubic ft

Weight:

Up to 2,00 lbs.
Moving Tip: If you aren't sure you can fit all your belongings in your U-Box container, order and extra! Unlike our competitors, we only charge you for what you use.
How does it work?
The best part about using U-Box® containers for a move or as a portable storage solution is you have the flexibility and control to plan the perfect move. You can ship to your new home or store until you know where you're going. We give you the opportunity to plan each.
Choose the number of containers you need. One

U-Box

container fits about a room and a half of household items. When in doubt get an extra–we won't charge you if you don't use it.
Tell us when you will need to access the container. If you ship it to a new city but don't need it yet, we can store it for you at our secure warehouse.
We deliver the containers to you and pick them up when you're ready. If you would rather take it home yourself, use our specially built trailer or pack it at a

U-Haul

location.
We will store your container at our secure warehouse or we can ship anywhere in the world. You will hear from us when the container is in transit and when it arrives at its destination.
Other
U-Haul

Services
Customer Reviews
Average Customer Rating
Let us know what you think.
Your valuable feedback will help us serve you better.
Write a review
Rating:

5.0
Arthur , at Mountain Toppers, was a huge help. He was great to work with.

Hurt S. 
Rating:

1.0
This Uhaul is the most incompetent franchise I have ever encountered. They never billed me for storing my uboxes, then tried to bill be $1000 more than I owed 2 weeks before pick up. A kind field manager negotiated a more reasonable price. I had told them I planned to pick up the boxes July 3rd, and they said that was fine (if I paid), but then when I called to confirm, they said actually they were closed July 3rd. I said that was frustrating since they had previously told me I could pick up on that date so I booked movers, and the man on the phone, in the most immature and spiteful tone said, "well if you're going to be rude, I won't help you". Again, a field manager named Patrick was able to clear up the ridiculous mess, but the people running mountain toppers Uhaul should no longer be representing Uhaul. They need extreme remedial training in customer service and basic paperwork, or frankly, to consider alternative employment. 0/10, have been very vocal about NOT using or recommending Uhaul ever again.

Jodie G. 
No reviews have been submitted for this location.