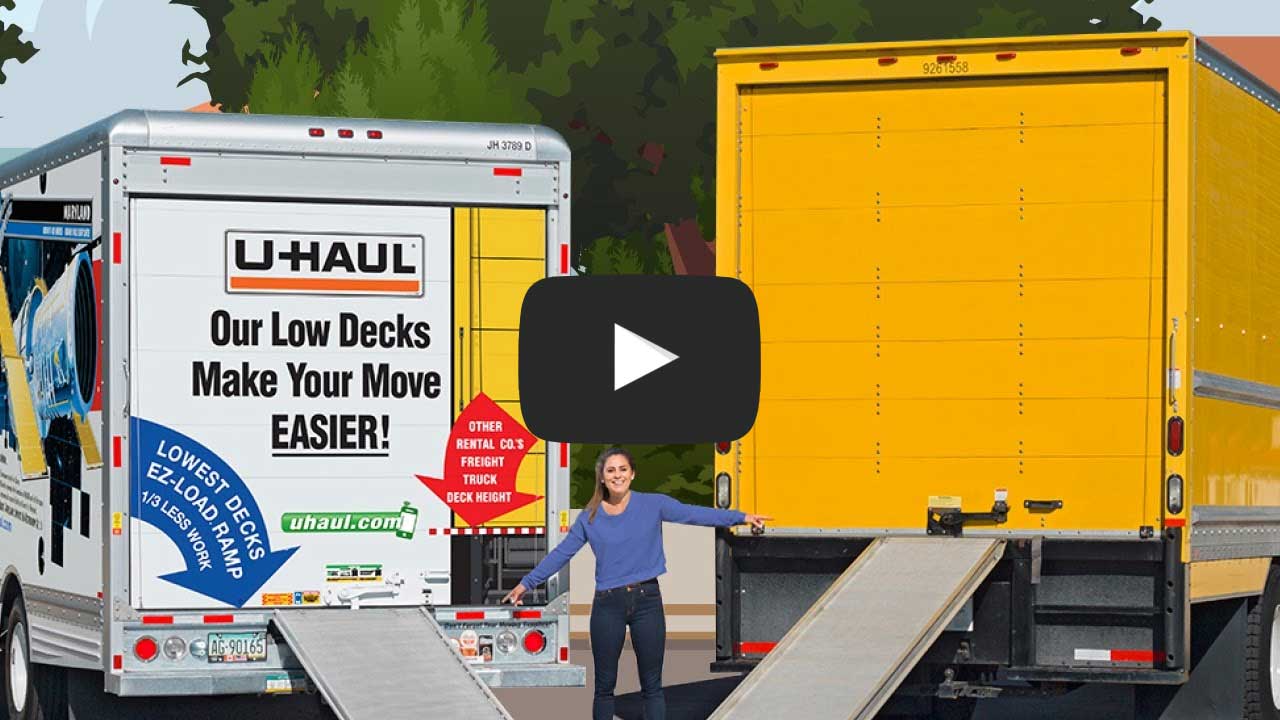 U-Haul

Trucks vs The Other Guys
U-Haul

Moving Truck Rentals

Whether you're tackling your first move or the tenth, U-Haul has the Right Equipment at the Lowest Cost for whatever your moving needs are. U-Haul has the largest selection of new trucks specifically designed for your upcoming household move.
What is
U-Haul

Truck Share®?

U-Haul Truck Share gives you access to a moving truck without the costs and responsibilities of owning one. No matter the size of your move, we have a fleet of trucks and vans ready to use. Rent the truck you need on your schedule with U-Haul Truck Share 24/7®. Pick up and return anytime, day or night using your phone. Enjoy the flexibility and convenience of being able to rent your truck when you want, how you want. Your equipment waits on you; you wait on no one.
One-Way Truck Rentals
Use U-Haul truck rentals to help you with your one-way move. With over 20,000 U-Haul rental locations spread out across the US and Canada, you can bet there is a U-Haul location near you. This saves you time and money when planning a one-way move.
In-Town® Truck Rentals
With local moving truck rentals, you pick up and drop off at the same location. This makes it a convenient option for a local move or local delivery. Truck rates start as low as $19.95 and if you need extended miles or days, we offer a best rate guarantee and special truck rental rates on our Cargo Vans and Pickup Trucks.
Why rent a
U-Haul

moving truck?
Moving Made Easier®
U-Haul trucks are specially engineered from the ground up to move families, not freight.
Only

U-Haul

trucks have rub-rails on all three walls of the box on all of our trucks allowing you to tie your furniture in to prevent it from shifting.
Our patented mirrors and large comfortable cabs allow for better visibility and comfort while driving.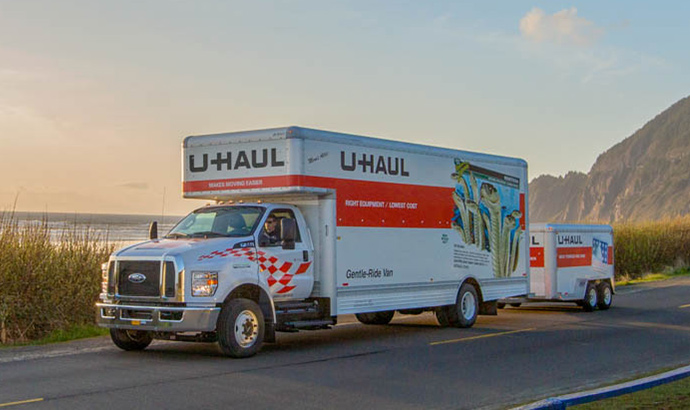 Most Space
Our 26' rental truck combined with our 6' x 12' cargo trailer gives you the most capacity for your furniture in the self moving industry. In fact, 22% more space or 126 additional medium boxes.
Our exclusive Mom's Attic® provides extra storage space above the cab to separate fragile items from the rest of your goods.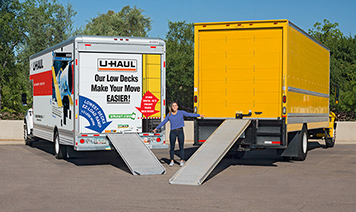 Ease of Loading and Unloading
All

U-Haul

moving trucks are engineered to get the loading deck as close to the ground as possible so loading your boxes and furniture takes half the work compared to loading a freight truck.
All

U-Haul

trucks 15' and larger have a wide sturdy loading ramp to help you load and unload heavy items.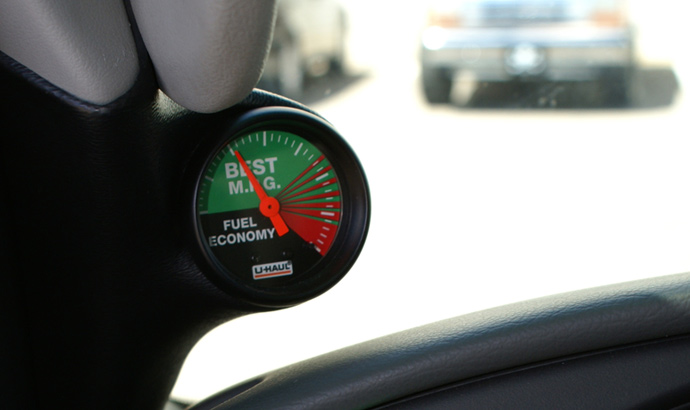 Lowest Cost
All

U-Haul

trucks use regular unleaded fuel which is 3x more convenient than diesel fuel and cleaner on the environment.

U-Haul

trucks feature a low profile design with enhanced aerodynamics which improves fuel efficiency and all trucks have a fuel economy gauge.
Choosing the Right Size Moving Truck
U-Haul offers everything from a pickup truck rental for a local delivery to the 26' moving truck rental for a large family move. With every phase of your life, come moments when you can rely on U-Haul trucks to help you get the job done.
Small Moves

Rent a 8' Pickup truck, 9' Cargo Van, or 10' truck when tackling a small move. Maybe you're moving out of a shared home or a small studio apartment. Or maybe you just need to pick up a new purchase from a local big box store.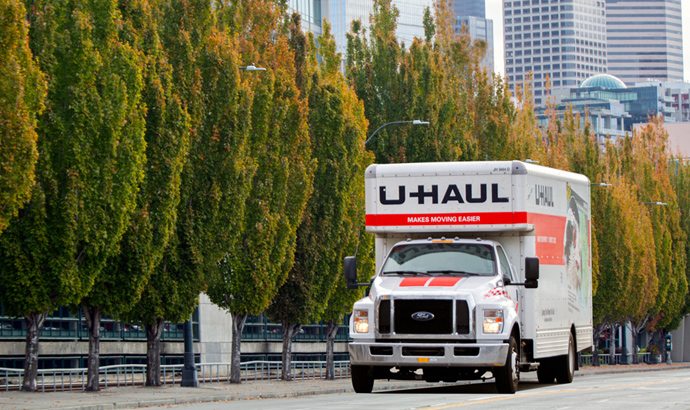 Medium to Large Moves

Depending on the size of your home and the amount of furniture you have, you'll need to decide between the 15', 20', or 26' moving truck rental. These vehicles all come equipped with low-decks, wide loading ramps, Mom's Attic and comfort cabs to make moving easier on you and safe for your furniture. Our 26' truck is the largest moving truck in the industry.
Towing with a Rental Truck
Tow your Car Behind a
U-Haul

Moving Truck and Save!

For added convenience, U-Haul moving trucks are capable of towing your car on a car carrier. Even the 10' truck, which is the smallest moving truck you can tow with, can tow a vehicle and the 15' truck will tow up to 10,000lbs.

Share the driving duties and tow your personal vehicle behind the truck on a U-Haul Auto Transport or Tow Dolly. This will save you the cost of driving two cars.
Need Extra Space? Add on a
U-Haul

Trailer

Only U-Haul offers rental trailers that can be towed behind the moving truck. Adding a rental trailer extends the amount of room you have to pack and allows you to keep your garage stuff and lawn equipment separate from your furniture.

Click "Get Rates" on this page to see the tab for "truck and towing" combo rates.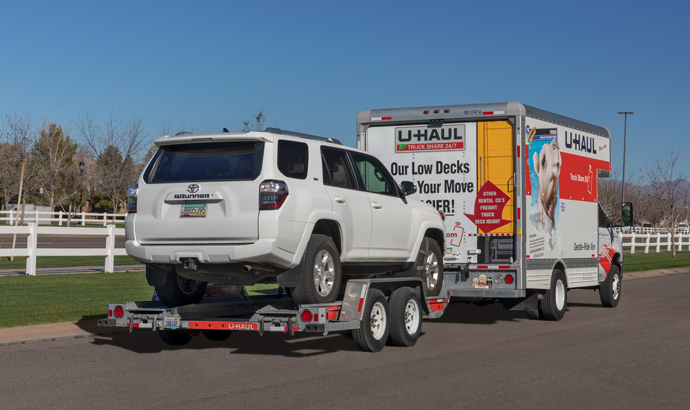 Your
U-Haul

truck rental reservation guaranteed!

U-Haul. U Can Do It®